How to Organize a March to the Poll in Your Area
All March to the Poll events should be held on Saturday, October 27 (which is the only Saturday during the early voting period). The time is up to local organizers, but 10 am to 2 pm are optimal times for high participation and good media coverage.
Your goal should be to turn out 100-200 people for the event. Have a sign-making party in advance, so that you have lots of good visuals.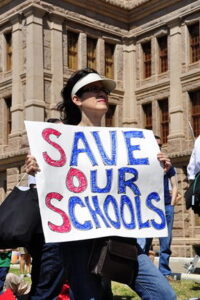 The rally can be about 10-15 minutes. Invite local dignitaries or community leaders to speak, along with a parent and student. The event is nonpartisan, so it is not a good idea to have candidates speak. They can participate, but this should not become a rally for one candidate.
If you have a school, park or church within 1/4 mile of an early voting location, that is ideal. Walk on the sidewalk, using chants such as "Save Texas Schools" and "Say No to Vouchers."
If their is not a polling location convenient to a public area for the rally, consider doing a car caravan. The Austin "March to the Poll" will have approximately 50 vehicles driving slowly from a high school to the polling location. Participants are decorating their cars beforehand, and are planning to roll down their windows, encouraging people to vote for public education as they drive along.
It is important that you not rally or have any group activity within the vicinity of the polling place. Simply go in and vote. Hopefully, members of the media will have followed you and may do interviews outside of the polling area afterward.
Our message is nonpartisan and not candidate-specific. We simply want people to VOTE and to support public education in every way possible.